Our babies will come pre-spoiled and well socialized with my children and other household pets.
We do not intentionally breed for T-cups size Yorkies or Breed T-cup to T-cup to get T-cups. They can have many health issues and other problems. Our Yorkies are typically standard size 4 to 7 lbs. Our male sires are tiny – 3 to 4 lbs. They carry the small genes so we do have typically have really tiny Yorkie puppies with precious teddy bear and babydoll faces.
All of our yorkies have little bodies, beautiful shiny coats and lovely dispositions.
All our puppies are purebred registered with AKC, up to date with shots and wormings since 2 weeks old and every 3 weeks after. We start potty training with pee pads when they are about 6 weeks old.
We provide quality, home raised puppies when they go home with you they will be pre-spoiled,socialized, healthy,vaccinated,vet checked and dewormed.
We also send them home with sample of puppy food from Life's Abundance – in our opinion, the best quality food for Yorkies. QUALITY ISN'T EXPENSIVE, IT'S PRICE LESS !
Our Yorkie puppies come with contract and 1 year health guarantee. I do take deposits for those who want to have the pick of the litter (which I highly recommend) to hold the puppy until they're ready to go at 12 weeks of age.
To hold a puppy I require a deposit of $400. I provide a deposit contract as well to protect each party. The prices for my puppies vary depending on the breed, size, color, pet, breeding and registrations.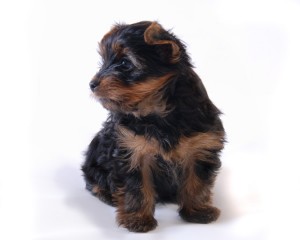 Puppies are ready to be seen in my home at 6- 8 weeks old.
We prefer that you pick up your puppy from our home so that you can not only see and meet their parents but also so that you can see their environment. This also allows us to provide information we feel is important for the continued health and well being of your new Yorkie puppy.
We can hold your puppy as soon as we receive the non-refundable deposit. Without a deposit we are unable to
It is our desire that our puppies all go to homes that will love, care, and enjoy them as much as we do.
Yorkies love being with their families which is why we allow ours to live indoors with us, go on car rides with us, go shopping with us, and actively participate in our everyday lives as much as practicle.
We never have and never will sell to a puppy mill or pet store. In addition, we retain the right to refuse any placement we feel isn't a good match for both the puppy and the pet parent.
We would like to thank you for stopping by and visiting our website.
Re-visit our site often to see upcoming litters, some of our previous ones and peruse all the free Yorkie information we add to and update daily.